Background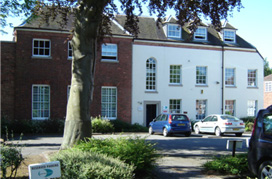 The Practice was established in May 2004 to provide Professional Quantity Surveying services to both Clients and Contractors combining the experience of Michael Roach and Hepzibah Hunt.

Michael Roach Associates was established in 1988 and Hepzibah Hunt Associates in 1991. From the early 1990's, Michael Roach and Hepzibah Hunt collaborated on projects, combining their skills and establishing a broad "blue chip" client base; specialising in offering traditional Quantity Surveying services to clients on both new build and refurbishment projects ranging up to £10,000,000.

Between partners and employed staff, Roach Hunt Partnership has considerable experience of the Construction Industry. Over the years we have established good relationships with clients, contractors, engineers, architects and associated construction professionals in the Midlands area and surrounding regions.
Where we are
The Manor House
96 Lichfield Street
Tamworth
Staffordshire B79 7QF

T: 01827 51233
F: 01827 69419
E: enquiries@roachhunt.co.uk
Let us get in touch